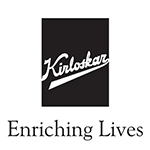 Kirloskar Diesel Generating Sets
We at CarCity, a wholly owned subsidiary of the Tappoo Group, have knowledge, expertise and capacity to supply, install, commission and service Kirloskar branded generators!
Power, Performance, Peace of Mind. Power Solutions Creating Value For You






Kirloskar Generators Fiji & the South Pacific
Total Power Solution is our commitment. The people behind Kirloskar supply backup power generation solutions in more than 70 countries worldwide! We at CarCity, a wholly owned subsidiary of the Tappoo Group, have knowledge, expertise and capacity to supply, install, commission and service Kirloskar branded generators!
Our electrical subcontractors who install generators are well versed and all the proposed work will be done according to AS/NZ: 300-2018 wiring rules OHS and EFL standard. The construction of a proper foundation for generators is vitally important as per manufacturer's standard which we are capable of providing. The plinth will isolate the surrounding structures by absorbing the genset's vibrations whilst in operation.
We offer world class automatic transfer switches with Sneider branded breakers as standard practice.
All in all, we provide a turn-key solution from coordination local transportation, unloading at customer's site, Foundation works, earthwork, cabling, change over switch, installation, commissioning and full back up service including the administering of a preventative maintenance program. We believe in no stones being left unturned to provide you the best possible service, value for money and a great overall experience.
Special Features
24 * 7 Service Support
Prompt and professional Service Support
Very Low Noise & Vibration
ISO 3046Class A1 & ISO 8528 G2 Governing
More than 12 Safety Shut-downs
Highly Fuel Efficiency
1 or 2 Year Warranty
Remote monitoring services (Optional)
About Us
Kirloskar Oil Engines Limited, founded in 1946 and popularly known as KOEL, possesses more than 7 decades of engineering excellence.
India's leading manufacturer of diesel engines and generating sets.
Manufacturing facilities located at Kagal, Nashik and Rajkot.
Annual production of over 320,000 diesel engines from 3 hp to 11,000 hp and 12,000 generating sets.
Independent research & engineering cell using high end engine design software and emission testing labs.
Engines used for more than 80 different applications and supplied to over.
A brand associated with trust.
In pursuance of Zero Defect
Total Quality Management Systems (TQMs) – A combination of ISO9001, ISO14001 and OHSAS 18001 for quality, environment and safety.
Pursuing "Quality First" principle being the chosen value system, KOEL continuously takes various measures.
Manufacturing Facilities
Engines & generating sets are fully manufactured by us at our state of the art plant at Kagal located near the city of Kolhapur in India.
Critical components like crankcase, crankshaft, camshaft, cylinder head, connecting rod, gear casing and many more are manufactured in-house.
Adopting the principles of Toyota Production systems, we utilize the best combination of man, machine and method for efficiency, speed and high quality.
At Kirloskar, we believe that industry and environment can and must coexist in a mutually beneficial way.
This thought has been brought into practice whereby not only are our generating sets eco-friendly, but they are also manufactured in an eco-friendly way.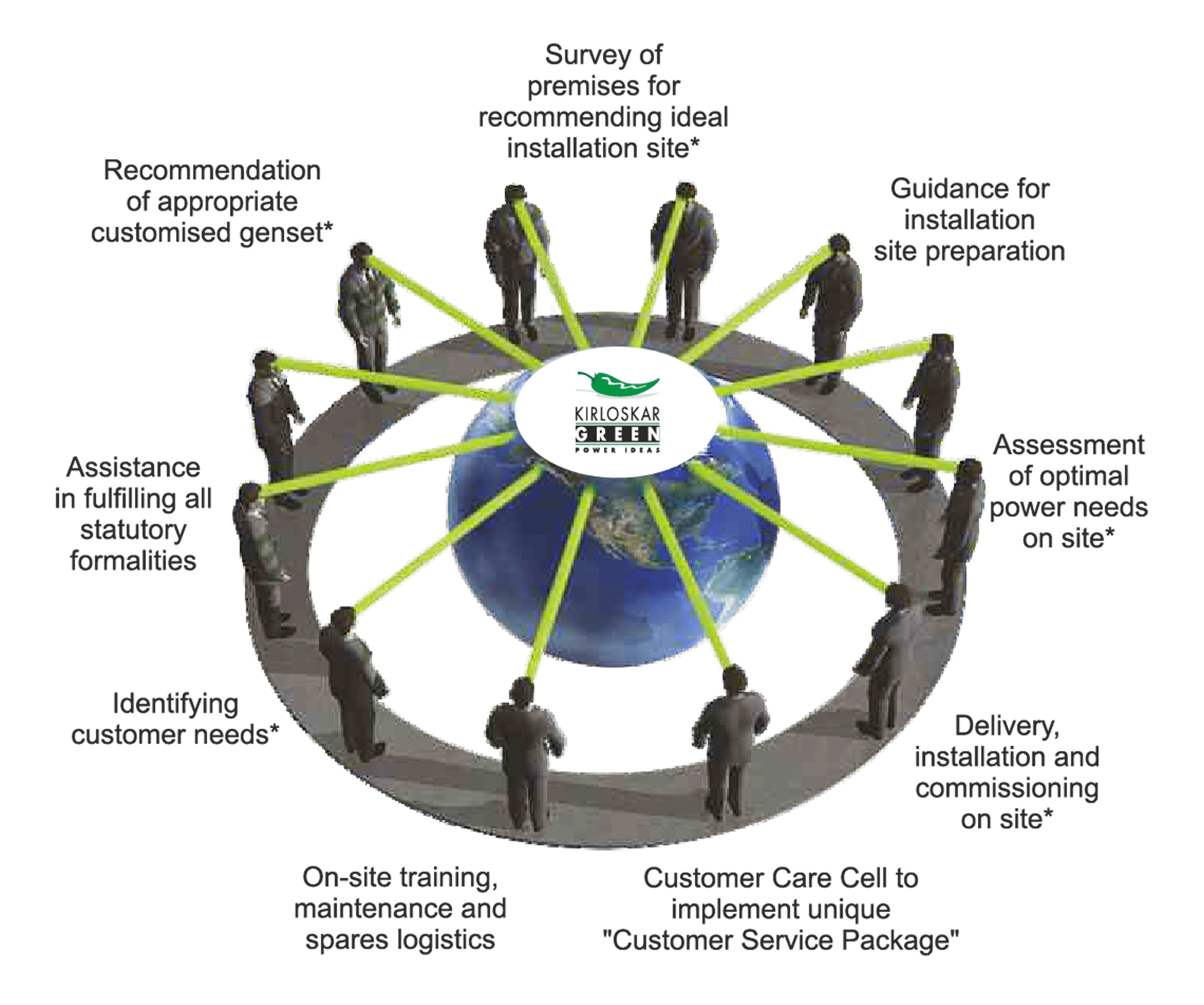 Complete power ideas from Genset selection to Total Power Management
Multiple sets for higher KVA requirements
Air cooled & water cooled engines
Aesthetically superior, compact, fully integrated, weather proof acoustic enclosures
Widest range of power offering owest operating costs and extremely reliable
State-of-the-art engine & genset control system
Ideally suitable for critical industries like Construction, Manufacturing, Textile, Telecom, Services etc
Winner of the Frost & Sullivan Voice of Customer
Award in the "Best Bang for Buck" category in the Indian Genest Market
Effective rules and service support in all countries of operations
Our Vision, Values and Promise
By 2025, Kirloskar Oil Engines touches the World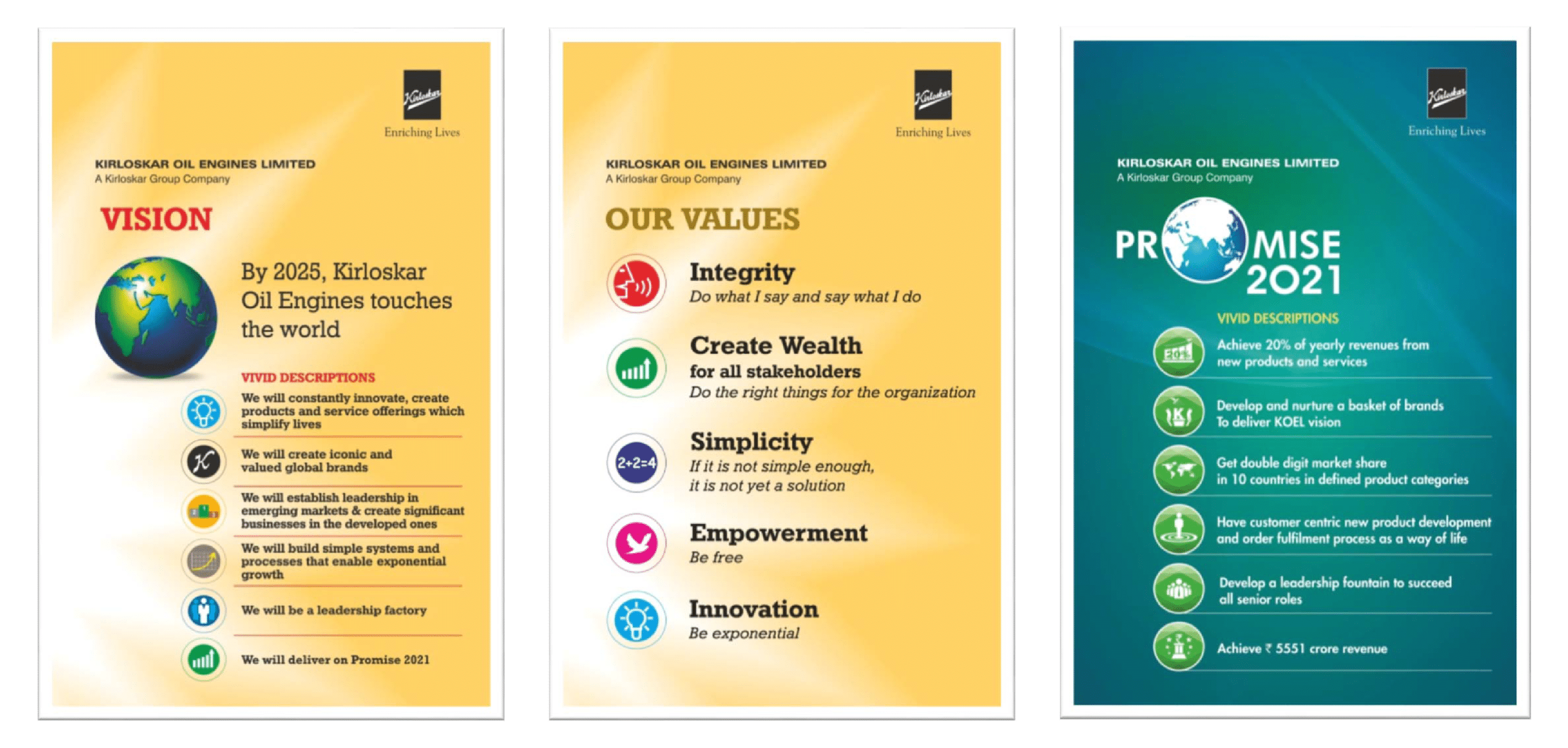 Quality : Accolades and Certification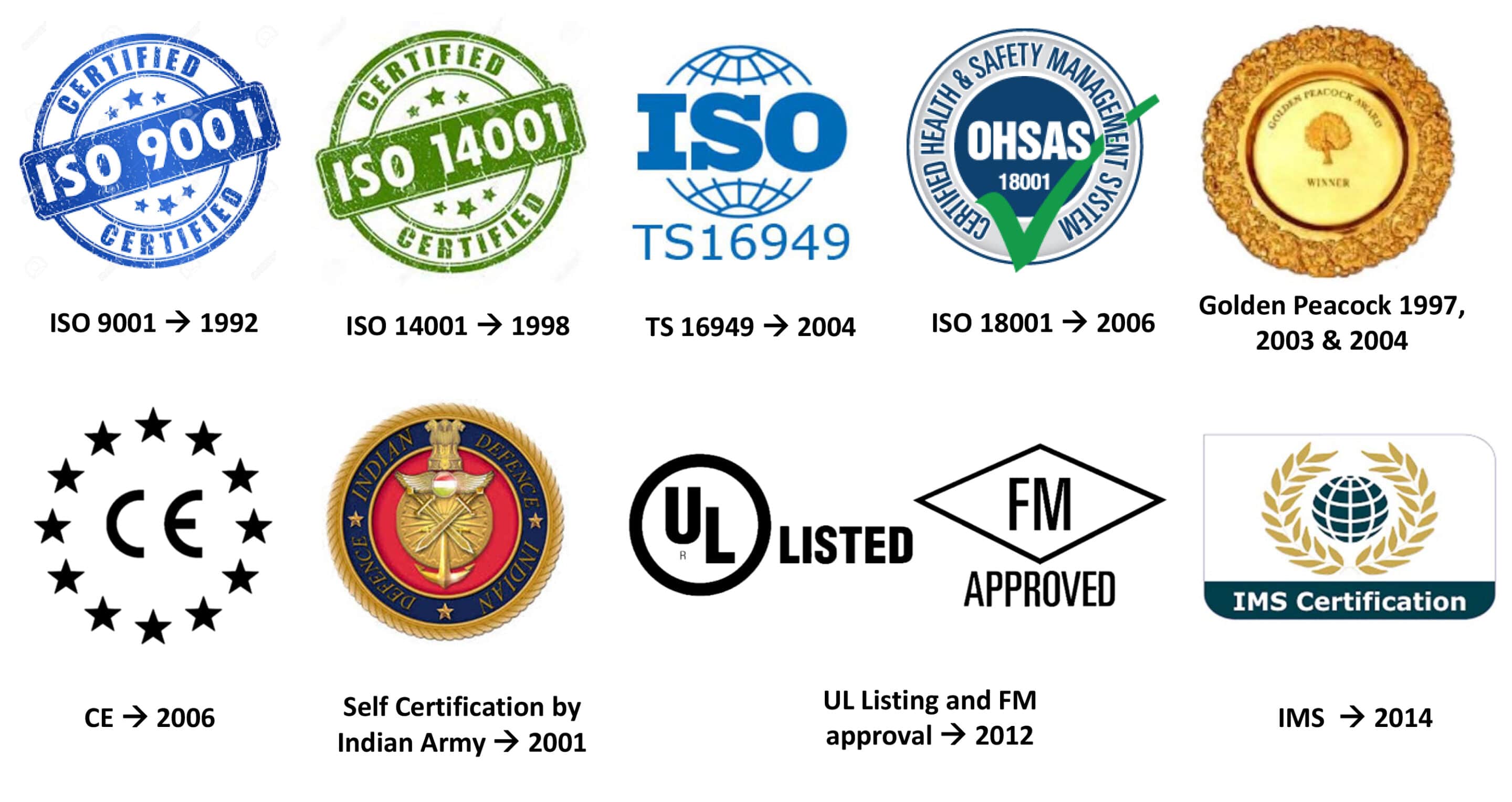 Diesel Engines 4 to 1250HP, 2400 to 11000 HP. Gensets 12 to 1010Kva, Solutions upto 5200Kva
Kirloskar Remote Monitoring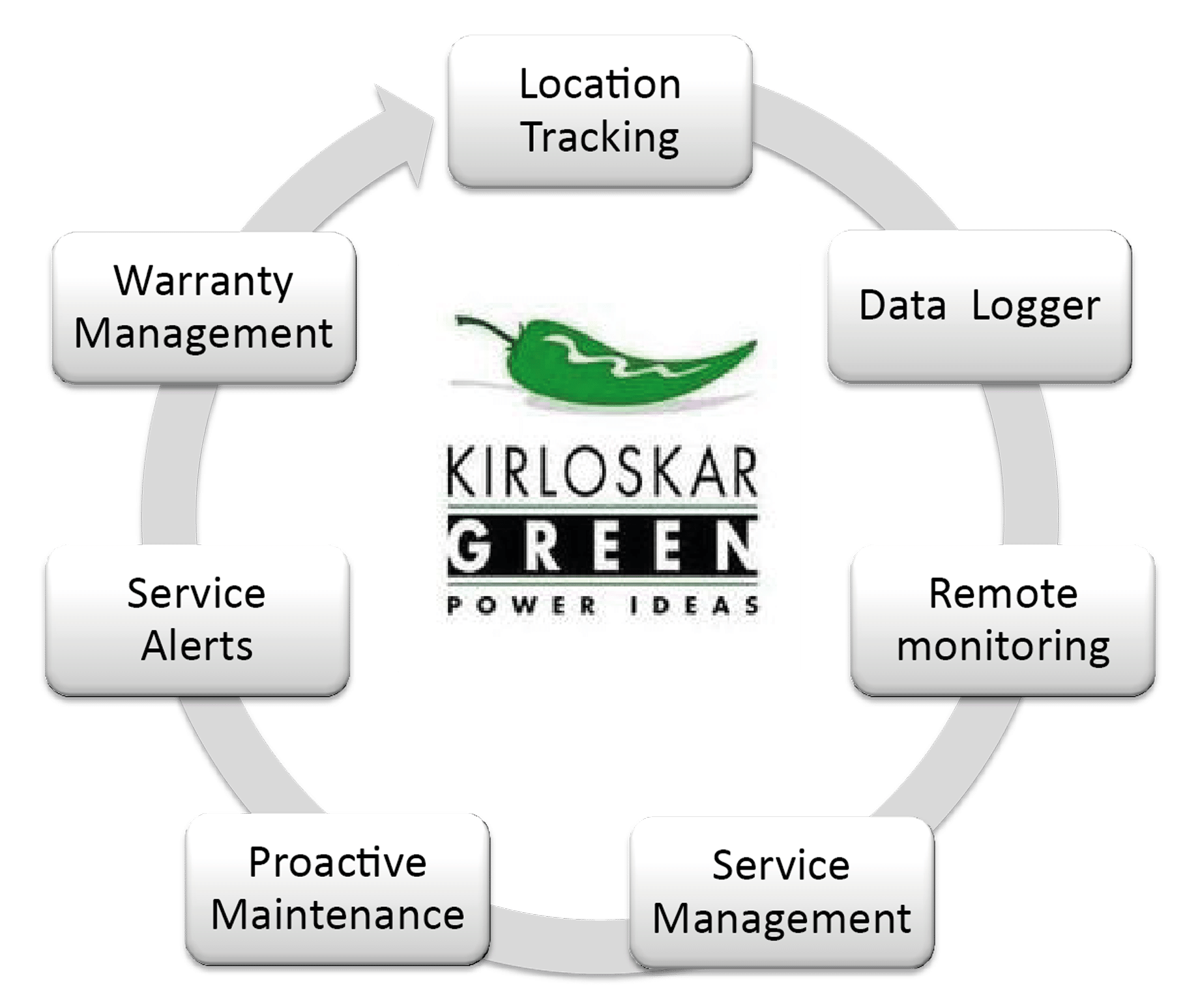 Thoughtful Design – Unmatched Features – Immense Benefits
Kirloskar generating sets have been designed giving highest consideration to end users, offering unmatched features and immense benefits to them. From easy installation and increased reliability to faster service, lower maintenance costs and increased uptimes. Kirloskar generating sets offer distinct advantages which set new standards in engineering. That's Kirloskar Green Power Ideas for you!
External Features
Safety Silencer mounted inside canopy – Improved safety & reduced sound level.
Door for radiator access – Access to radiator for faster service.
Top lifting arrangement – Easy to lift by crane
Stainless steel door locks – High durability & improved security.
Fuel tank full with indicator lamp – Prevents fuel spillage /wastage & improves safety.
Emergency stop switch – Easily accessible on canopy for stopping.
Glass window on canopy – Easy to read generator parameters & safe.
Provision of gland plate – Easy cable entry & improved safety silencer.
Mesh on exhaust tail pipe – Prevents entry of pests / rodents.
Stainless steel door hinges – Heavy-duty, anti-corrosive & long lasting.
External fuel tank filing access – Ease of refueling.
Coolant drain arrangement – Easy access for faster service.
Pockets for Forklift – Facilitates easy handling & installation.




500 Hours Service Interval
For all models subject to usage of 15W40-CI4 grade oil.


Extended Service Intervals
Coolant level sensor – Supplementary engine protection.
High quality door rubber beading – Better sound attenuation
& ingress protection.
Heat insulated exhaust line – Improved engine cooling efficiency
& serviceability.
Longer fuel tank breather tube – Prevents fuel spillage due to overfilling
High efficiency LED lamp – Extra bright & low power consumption.
Lube oil drain pump – Faster oil drain, reduces downtime,
eliminates need of additional tray.
Water separator as a standard feature – Prevents water entry into engine.
Control panel door stopper – Facilitates service & improves safety.
Mechanical fuel gauge – Easy fuel level reading while re-fueling.
High quality PU foam – Superior sound attenuation, long life, dust
resistant & fire retardant.
Guard for rotating parts – Enhanced safety.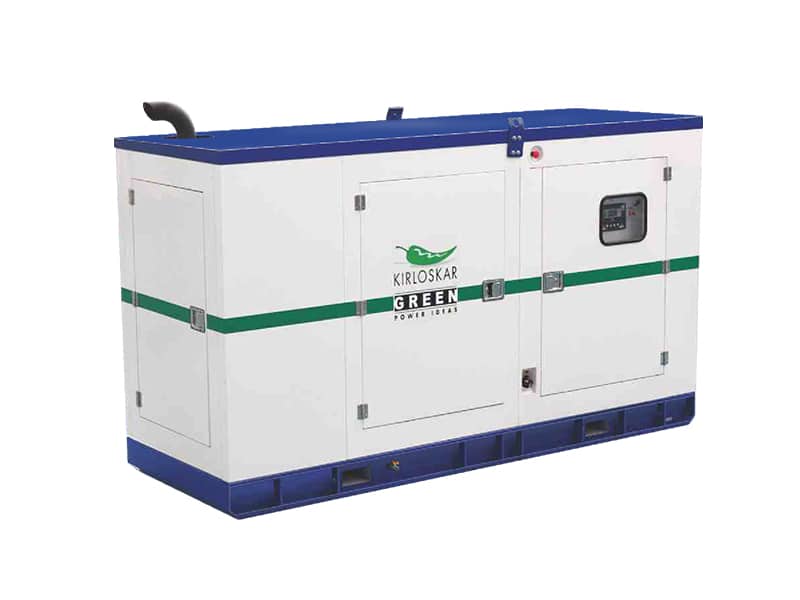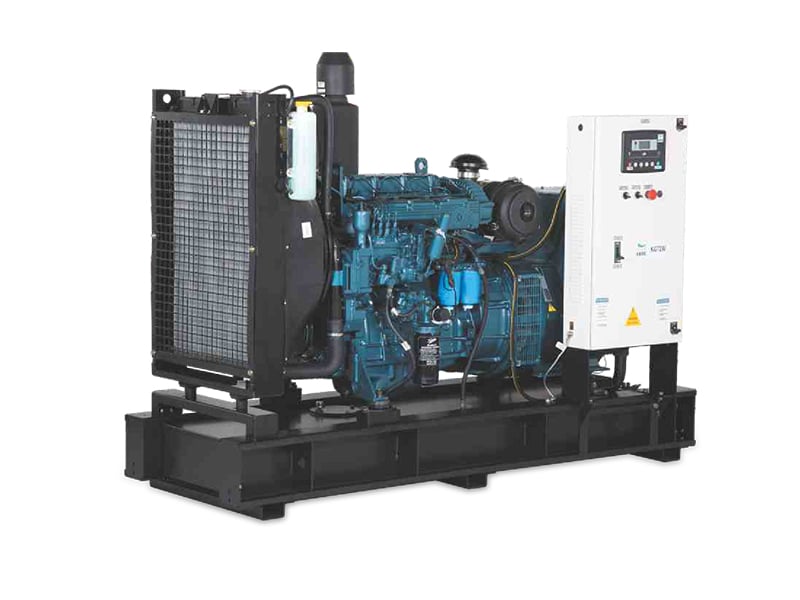 For more information, Please contact:
Sibil Das P
Sales & Service Engineer
CarCity Kirloskar – Fiji & the South Pacific
Mobile/ Whatsapp/ Viber: (+679) 999 2748
Email: sibilp@carcity.com.fj
Facebook: www.facebook.com/kirloskarfj
Now Available From: